We all know who Macaulay Culkin is and I literally mean everyone. There isn't a single person left who hasn't seen Home Alone and watched Kevin McCallister run around wreaking havoc everywhere. He was a very cute kid, so it was a little bit of a surprise to see what he grew up to look like.
Giphy
But you know what? Our guy Macaulay has been through some ups and downs so who's to judge? There's a whole list of celebrities that either hide out for a while or emerge looking a little wild (Britney Spears and Miley Cyrus are two great examples of this.)
Remember when Culkin ate pizza in silence for four minutes? That's probably a bad example of "celebrities going wild", but we still aren't sure what the deal with that was. People panicked and thought M.K. was losing it but what if the whole thing was a joke to get a reaction out of his friends? We all need to stop rushing to conclusions.
If anything is weird about that video, it's probably the fact that it took Culkin 4 minutes to eat one slice of pizza. That seems like a really long time, right? I mean, he looks a bit distracted so maybe that has something to do with it. We may never know.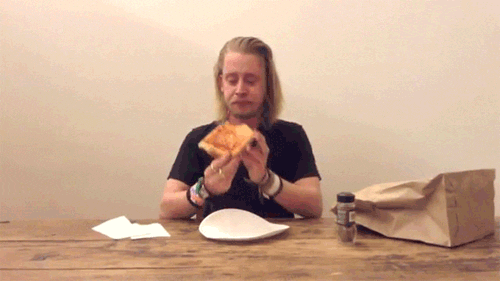 Click 'NEXT PAGE' to see Macaulay Culkin's before and after photos. If you found this story interesting, make sure to SHARE this post with all of your friends on Facebook.