Anyone game for some disappointing news? We just heard that Rugrats has a porn parody. If this has spoiled your childhood in any way, we're sorry but join the club. The parody, which is crudely named Tugrats, imagines the toddlers as diaper-wearing adults who, after years of sexual tension, finally remove their diapers and have x-rated naps with each other.
YouTube/Wood Rocket
Tugrats is the latest pop-culture porn parody from Woodrocket (NSFW warning in case you decide to google that). The website reaches into the very depths of nostalgia culture, rendering iconic '90s staples into "naughty" versions. They've previously turned cartoon characters from Teenage Mutant Ninja Turtles and Pokemon into wild sexual beings in the form of listicles that only "'90s kids will understand."
If that's something you're into, hey, who are we to judge? The difference, this time, is that the characters on Rugrats are actually babies. Need I say more? I think not. It's pretty obvious why this is problematic.
In fact, this idea is so terrible that it's difficult to imagine any pop-culture parody worse than this. But as you know, the internet knows no bounds and so there might very well be a porn parody of the Muppet Babies rendered as adults muppets engaged in plushy indecency.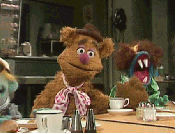 Click 'NEXT PAGE' to continue reading. If you found this story interesting, make sure to SHARE this post with all of your friends on Facebook.