I think we can all admit that it's nearly impossible to take a good government photo, whether it's for a driver's license or a passport. But passport photos are especially terrible because they usually require that you don't smile and wear minimal to no makeup at all. If you ever feel especially bad about your passport photo, we bring to you Chelsey Ramos from Austin, Texas.
Ramos received a particularly horrifying surprise when she opened up her brand new passport. She and her boyfriend Reece Lagunas are planning an exciting trip to Germany in September. According to an interview with HuffPost, Lagunas said that to prepare for their trip they had to get their passport situation sorted out.
Lagunas had to apply for his very first passport, while Ramos only needed to get her passport renewed. You have to take another picture in order to renew it so they both decided to make a trip of it. They went off to Costco to take simple passport photos, nothing crazy. Sounds like a simple request, am I right? Wrong.
This is the passport photo that Ramos took. Just a typical passport photo, no fuss. She's just trying to get to Germany, guys.
Of course, you don't just get to take your new passport home with you right away. The photographer shows you the picture and sends you on your way. Ramos received her new passport in the mail in late July. This is what she saw when she opened it:
Yes, it's horrifying. And it's hilarious. Imagining opening up your passport and seeing this picture of yourself. Here's a side-by-side comparison just so you get the full effect for good measure.
According to Lagunas, "Chelsey was furious" when she saw the photo. He adds, "And rightly so. She paid good money for an official ID from the State Department and it came out wrong, completely wrong, wouldn't-pass-through-customs wrong."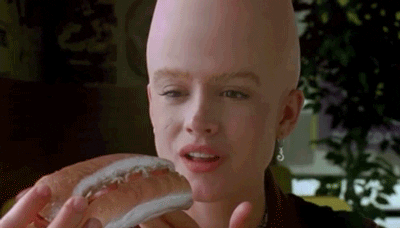 Click 'NEXT PAGE' to continue reading. If you found this story interesting, make sure to SHARE this post with all of your friends on Facebook.